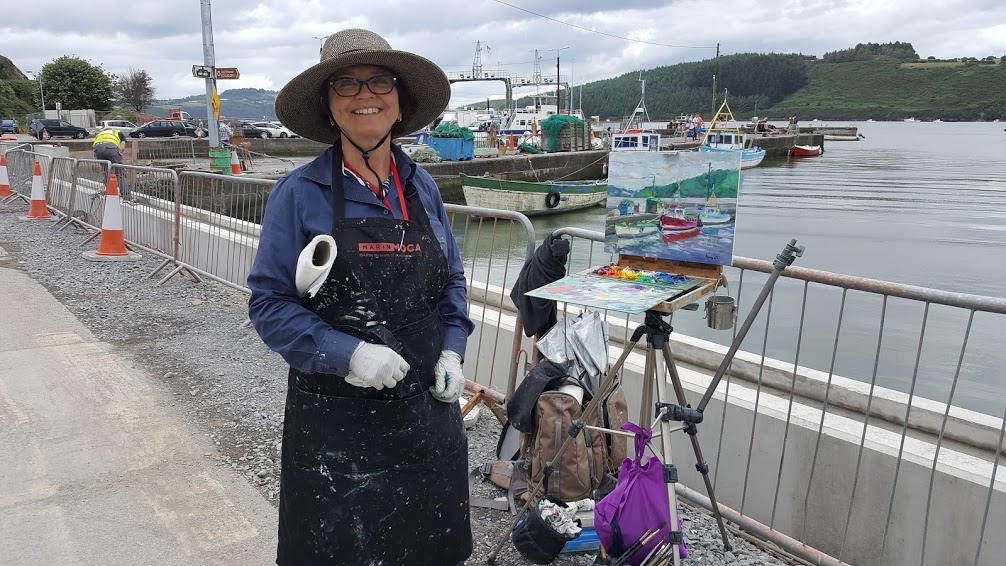 As an artist I am inspired by life and everyday events. Most recently I have focused on the art of painting outdoors, also known as plein air. This type of painting represents a different challenge than studio work. Capturing an essence of the place, the day, the light and the mood is usually done for a limited number of hours and can require repeat visits to the same location at the same time of day. Landscapes are ever changing and what goes onto the canvas is only a fleeting moment.
Art has been an ongoing joy in my life since childhood. As a teen I painted public and private wall murals and had formal training as an art major in college. During my career in the technology industry, I continued to pursue art, painting with water colors, pen and ink drawing in addition to ceramic sculpture. I am now a fulltime artist working at my Novato studio and plein air painting in the great outdoors of the Sierras, Coastal California and Europe.
For the last 8 years, I have been painting in oils. This summer I participated in the North Tahoe Plein Air event and my painting of 'Sand Harbor' was the featured piece advertising the event in the Tahoe Weekly. I have been focusing on color taking a week-long workshop and painting on Mondays with Camille Przewodek.
In July, I joined the largest European plein air event, Art in the Open, Wexford, Ireland. While there, I took workshops with Mark Delassio, Natalia Dik, Ned Mueller and Roger Dellars. In September, I attended a workshop the Burgundy region of France given by renowned international field instructors Antonin Passemard and Anastasia Dukhanina. This was my second year studying with them. My works are owned by collectors in the U.S. and Europe.
Membership:
Malta Society of the Arts
California Plein Air Painters